Sacramento Junk Removal and Hauling Experts
Got household junk to remove and haul in the Sacramento area?  Junk can clutter our homes, businesses and lives. Junk Away provides eco-friendly junk removal and hauling in Sacramento to simplify your life by reducing cluttered chaos—no matter the amount or what kind. When you call Junk Away, we'll haul away your junk, donate or recycle anything we can, and dispose of the rest.
Put Your Stress At Bay, Call Junk Away Today!
Call us to remove your household items, yard waste, construction debris and more in Sacramento.
Appliances—All Sizes (ovens, refrigerators, dishwashers and more)

Yard Waste 

Storage, Garage, and Full-Houses

Furniture Hauling

Garbage and Trash Removal 

Construction Demolition

Hot Tubs

E-Waste Removal (televisions, computers, telephones)
Call us right away to schedule your junk hauling and cleanup anywhere in Sacramento. For jobs with piles of items, we will sweep the junk removal areas to leave your Sacramento home or business site clean and welcoming.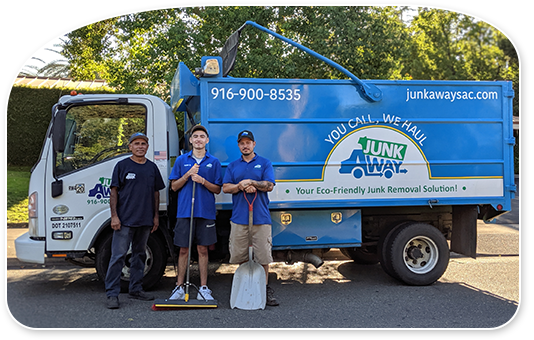 Sacramento Junk Hauling and Cleanup Services for Homes and Businesses
Residential Junk Pickup and Removal in Sacramento
You can get all the junk hauled away from your Sacramento home with a single call to Junk Away. From small jobs to large, we're here to take away refrigerators, yard waste, trash, hot tubs,  construction debri and more—fast.
Home Cleanouts in Sacramento
We have extensive experience removing and hauling junk in Sacramento.  You can send us a photo of your junk, or walk us through the junk you would like removed from your home or commercial site in Sacramento during our free onsite assessment. Our Sacramento based junk removal team will gather everything you point to, load it into our truck, and haul it away. Hoarding houses, home remodels, tenant cleanups,  and deaths are all examples of home cleanouts in Sacramento that we can help you with when you call.
Commercial & Business Junk Hauling and Cleanups in Sacramento
Junk Away Sacramento will come to your business, construction zone, or rental property in Sacramento to remove, clean, and haul away your junk. We'll haul away construction debris and more, then sweep and clean the junk sites for you. If you're a real estate broker in Sacramento, consider us for cleaning your clients' properties and readying them for showing.
Got household junk to dump in Sacramento area? Junk can over clutter our homes, and our lives.. Our service provides eco-friendly solutions to simplify our life by reducing cluttered chaos. Professional junk removal solutions are provided from average personal to extreme hoarders, you call we haul Junk Away. We properly remove, recycle, & dispose most household items, also yard waste removal in Sacramento services. Ask about Junk Away.
JUNK REMOVAL HAULING IN SACRAMENTO AREA
We Service Sacramento, Carmichael, Orangevale, West Sacramento, North Highlands, Del Paso, Arden Arcade Elk Grove, Roseville, Rocklin, Granite Bay, Folsom, El Dorado Hills, Loomis, Lincoln, Auburn, Vacaville and all Surrounding Areas
E-waste removal

Appliance removal

Garbage/trash removal

Room/garage cleanouts
Yard waste services

Furniture removal

Hot tub removal

Construction demo removal
Junk Removal hauling in Sacramento & Surrounding Counties. Junk Away removal construction demo removal.
About the Sacramento Junk Hauling and Disposal Experts
We pride ourselves on being trustworthy, reliable, honest and removing and hauling your junk at a fair price in Sacramento. By consistently delivering exceptional junk hauling results for Sacramento homeowners and business owners, we've become known for excellent service. We are:
Eco-friendly 

Fast 

Reliable

Highly responsive

Friendly and helpful

Efficient 

Detail-oriented

Do the job right the first time
 One call to us can give you peace of mind, knowing that Sacramento's top junk hauling company will remove your junk and dispose of it properly and at a fair price.
Leave your junk removal and disposal to us. From removing small piles of junk and yard waste to hauling away households full of junk or debris, from small remodel jobs to full construction site cleanups, we're here to help you every time. Trust your junk hauling and removal to Sacramento's junk hauling professionals. You'll rest easy knowing the junk is gone—and disposed of in an eco-friendly manner every time.